From Goal.com
Everton manager David Moyes returned to the summer controversy surrounding Manchester City's pursuit of Joleon Lescott in the build-up to the meeting between the two sides on Saturday evening.
The England defender joined City this summer for £22million and it was obvious throughout the ordeal that Moyes was less than willing to sell.
Players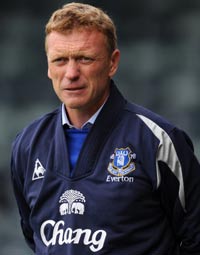 * David Moyes
Regardless, the Citizens were persistant and landed their man, with Moyes claiming they were "breaking the rules" and showing "no class" in the process.
"There is no doubt Manchester City treated us with little respect and broke rules in the summer transfer of Joleon Lescott," Moyes told the Press Association.
"I found it very difficult to accept that a club with so many similarities to Everton should suddenly start acting with no class."
"It was not so long ago that City were very similar, in financial terms, to most teams.
"But then a couple of changes of ownership at the club saw things change quickly for them. With that comes a great deal of expectation."